New Intimidator Production Facility
6/01/18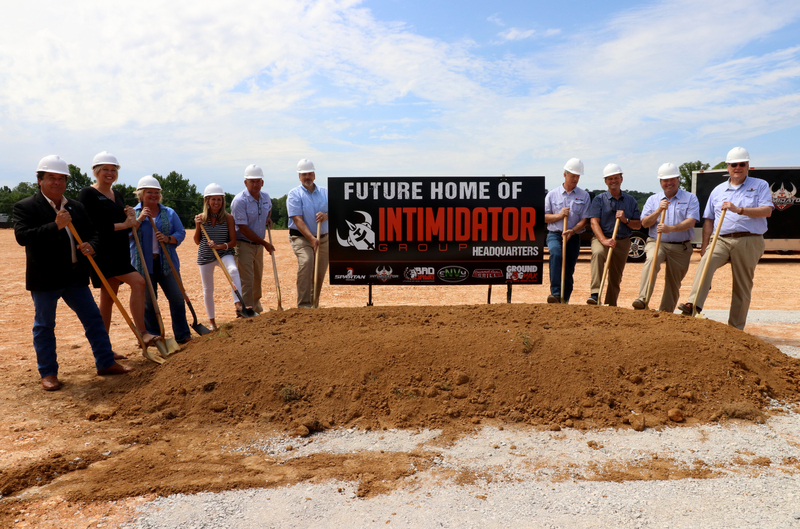 Batesville, Arkansas (June 1, 2018) - The Intimidator Group announced today the construction of a new 200,000 square foot manufacturing facility at its new manufacturing campus at 1525 White Drive in Batesville. The manufacturing building announced at a groundbreaking ceremony will be the first of three planned expansions at the 38-acre campus. Intimidator, Inc. has experienced exceptional growth since its inception in late 2013, fueled by market acceptance of Intimidator's side-by-side UTVs, their partnership with Mahindra USA, and the success of Spartan Mowers.

The time has arrived for a significant addition of space in order to position Intimidator, Inc. for continued success and the contribution to the economy of their hometown of Batesville, Independence County, and the surrounding area.
The new Intimidator, Inc. facility will more than double the existing operating space. Plans for the new facility include receiving and warehousing for purchased materials, assembly operations, and finished goods warehousing and shipping. The present facility will continue to house fabrication and coating operations.

Phases 2 and 3 will quickly follow and are set to include corporate headquarters, a state-of-the-art training facility, and a powder coating operation facility.

Intimidator, Inc. is a prime example of a community joining forces to see business succeed. Owners Robert and Becky Foster as well as Roger Wright, COO for Intimidator, Inc. were passionate in describing their appreciation the company has for the many groups who have supported their efforts. Especially helpful were the efforts of Governor, Asa Hutchinson, his office, and the AEDC-- County Judge, Robert Griffin, the Quorum Court, and the Economic Development Committee-- Mayor Elumbaugh, the City Council, the Batesville Area Chamber of Commerce, and UACCB who have all assisted and encouraged the company's growth. "Our stated target in 2016 at the Governor's visit was to invest over $12 million in buildings and equipment and create 400 new jobs by the year 2021. This new world-class campus and building keeps us on track to reach that goal." Wright explained.

As the company constructs this new facility, they have also been mindful of incorporating a lean way of thinking. Lean manufacturing involves continual efforts to eliminate or reduce waste and add value. Exciting days are ahead for this company which has chosen to dig their roots deeper in their hometown as their network of dealers continues to grow across the country.
Intimidator, Inc. also serves as the parent company to Bad Dawg Accessories, the Ground Hog Max, Gourmet Guru Grills and ENVY – Neighborhood Vehicles.
For more information, visit www.intimidatorgroup.com.